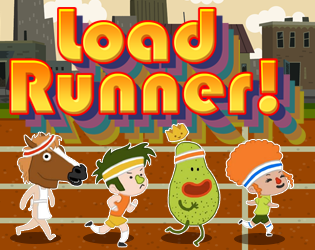 Load Runner (TOJam Edition)
Load Runner is a frenetic competitive multi-player game for up to 4 players where players must battle to be the last man (or woman, horse or papaya) standing!
The Rules are Simple:
You are always running.
Collect objects to get heavier and slow down.
Throw objects at people to knock them forward and to get lighter.
Don't die.
Controls
Left Stick: move your player
Right Stick: move your reticule / release to fire
A: accept (only in menus and after race)
Start/Back: return to menu (only after race) / start game (character select)
Credits
Load Runner was made in just 3 days as part of the 2014 Toronto Game Jam! The following talented people made the game:
John Axon - music composition, SFX creation, voice acting
Marion Esquian - object art, character designs & ui
Stephane Goulet - background art, ui design, voice acting
Julian Spillane - programming, voice acting
Install instructions
Download and extract the archive to your desired location. Executables for Linux, OSX and Windows will be present in their respective sub-folders.
Note: Load Runner requires controllers to play, and supports Xbox 360, PlayStation 3, PlayStation 4, and OUYA devices, among others.
This game runs full-screen on all platforms.
Please contact julianspillane@gmail.com for support.
Download
Download
Load Runner (TOJam Edition)
50 MB